Private Research: Much of the research done on Generation Jones has been commissioned by clients of various political and business organizations who often keep this data private. Sometimes, though, these organizations will share some of these statistics, and requests for proprietary data may be made to this address: PrivateResearch@GenerationJones.com
Public Research: There have been, however, numerous public releases of data about Generation Jones, and this page has a few examples.
Rasmussen Reports
When Rasmussen Reports' polling revealed that Generation Jones women were the key swing voters in the electorate, it immediately featured this important discovery on its website, which was then covered by many top media outlets.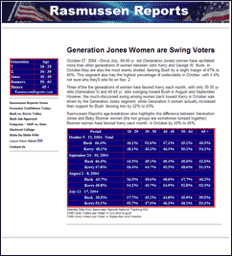 Carat
Carat, the largest media agency in the U.K. (with clients like Guinness, Disney, etc.), has invested significant resources into studying Generation Jones, including conducting extensive qualitative and quantitative research with over 10,000 U.K. GenJones consumers. Carat included many stats and insights garnered from this project in this website it created about GenJones.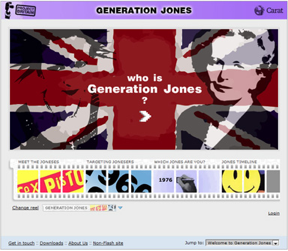 ThirdAge

Third Age, a popular website for midlifers, commissioned a nationwide poll to determine Barack Obama's generational identity. Interestingly, they approached this via self-identification among those born in the same year (1961) as President Obama. So a nationally representative sample of 500 U.S. adults born in 1961 were asked: "Do you consider yourself to be a member of the Baby Boom Generation, Generation X, or a lost generation in-between (usually called Generation Jones)?" The results showed Americana born in 1961, like Obama, overwhelmingly identify with Generation Jones: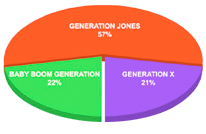 Mason-Dixon
Top pollster Mason-Dixon's post-election study (on its website below) found the role of GenJones voters so important that they wrote: "History will show it was one generation of voters-Generation Jones- that was the decisive vote".